Minister Jayanta Mallabaruah attends an Interactive Session with Goshalas & Dugdha Utpadok Samabai Samiti on the implementation of GOBARDHAN scheme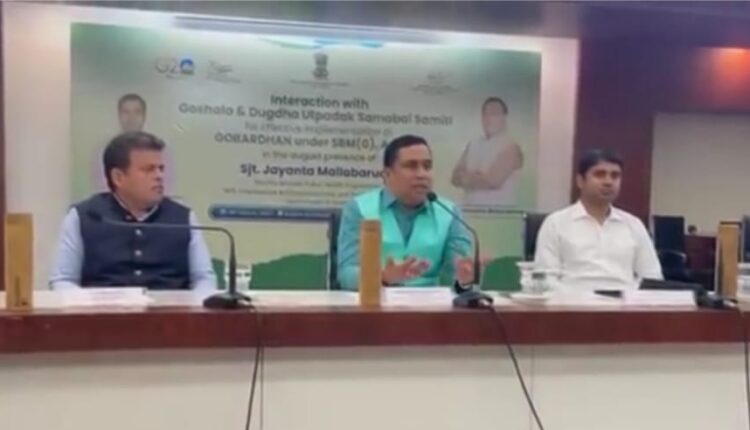 PHED Minister Jayanta Mallabaruah attended an interactive session with Goshalas & Dugdha Utpadok Samabai Samiti on the implementation of GOBARDHAN scheme under SBM-G at Assam Administrative Staff College today. By expressing his thoughts at the session, minister Baruah mentioned about the significance of GOBARDHAN scheme in terms of cleaning the villages through solid and liquid waste management resulting in increased rural income, employment and reduced environmental impact. Speaking at length, he added "Community biogas plants such as dairy farms, livestock farms, Goshalas, religious sites, piggeries etc. and cluster and semi community level biogas plants will be installed in selected villages in districts with abundance of cattle dung and other bio-agro waste which will definitely encourage people to consider dung and other waste not just as a waste but as a source of income." He also said that the scheme will be implemented on the basis of the demand and involvement of the Goshalas. All together 24 numbers of Goshalas and 'Dugdha Utpadak Samabai Samiti' along with their representatives from 21 districts participated in this interactive session.
Notably, the Galvanizing Organic Bio-Agro Resources Dhan (GOBAR-DHAN) scheme is implemented under the Swachh Bharat Mission Gramin-Phase 2, by the Department of Drinking Water and Sanitation under the Jal Shakti ministry which mainly emphasises on augmenting income of farmers by converting biodegradable waste into compressed biogas. It also aims at ensuring cleanliness in villages and generating wealth and energy by converting cattle dung and solid agricultural waste into biogas, compost and bio slurry, thereby improving the livelihood of communities adopting the scheme.