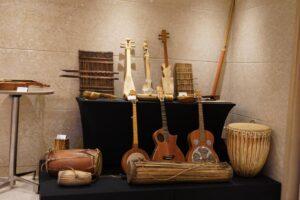 The Department of Tourism of the Government of Meghalaya and The Meghalayan Age Limited collaborated to present the prestigious event, "Ateliers Meghalaya Awards 2023," a grand celebration of the state's rich cultural heritage and excellence, at Courtyard by Marriott in Shillong. This illustrious gathering was graced by the august presence of the Hon'ble Chief Minister of Meghalaya, Shri. Conrad K Sangma, as the Chief Guest, and was also dignified by Guest of Honour, Bah Paul Lyngdoh, Hon'ble Minister of Tourism, Government of Meghalaya, along with Shri. Cyril V. D. Diengdoh, IAS, Director, Department of Tourism, and Executive Director of The Meghalayan Age Ltd. and Robert Lyngdoh, Chief Administrative Officer, MAL.
The Ateliers Meghalaya Awards 2023 recognized exceptional talent across various creative domains, with a total of four categories. Each award recipient was honored with a certificate of recognition and a cheque of Rs. 50,000/-. The esteemed awardees were: Most innovative Product: Gourd Lamps by Christine G Momin from Tura; Best Atelier Promoting Cultural Heritage: Rani Maring from Pahambir, Ri-Bhoi & Blastin Sangma from Seempara, South Garo Hills; Customer's Favourite Handloom Product: Bath Towels by Nela Handloom from Shillong & Eri Silk Accessories by KINIHO from Shillong; Customer's Favourite Handicraft Product: Terracotta Bull by Arak Sangma from Tura & Recycled Paper Bag by Cryspil Sangma from Tura.
The Ateliers Meghalaya Awards 2023 showcased the extraordinary talent of Meghalaya's artisans, who skillfully demonstrated the essence of the state's artistic excellence. The event commenced with captivating opening remarks by the Masters of Ceremony, setting the stage for the inspiring evening. Attendees were treated to mesmerizing performances by gifted artisans, offering a glimpse into the intricacies and artistry that define Meghalaya's rich craftsmanship.
In his inspiring speech, the Hon'ble Chief Minister of Meghalaya, Shri. Conrad K. Sangma, stated, "Today, as we gather here at the Ateliers Award Ceremony, we celebrate a remarkable journey towards preserving our rich culture and forging a brighter economic path for Meghalaya. The Ateliers Program stands as a shining example of our commitment to safeguarding traditions while creating sustainable livelihoods for our people. In the last five years, we have witnessed a transformative shift in our state's economic landscape through the implementation of innovative initiatives. The unwavering push for Self-Help Groups (SHGs) and the support extended to entrepreneurs through PRIME have been instrumental in fostering growth and prosperity. One of the core tenets of the Ateliers Program is connecting and recognizing the hidden talents and practices that lie within the heart of Meghalaya. It is through this synergy between artisans and entrepreneurs that we are able to showcase the uniqueness of our products and the depth of our knowledge to the world. In this pursuit, I urge the Meghalaya Artisans' League (MAL) to meticulously document the practices and knowledge-sharing of our artisans. This invaluable repository will serve as a guiding light for future generations, ensuring that our traditions and craftsmanship continue to thrive. "In 2021, we embarked on a transformative journey, handpicking 23 skilled artisans and empowering them with substantial grants of five lakhs each. As the program evolved, a second batch followed, supporting a greater number of artisans with two installments, fostering inclusivity.By intertwining the artisans' craftsmanship, the vibrant tourism sector, and entrepreneurial spirit, we laid the foundation for something extraordinary. The advent of the Meghalayan Age store, now accessible online, has opened doors to unimaginable economic growth and livelihood opportunities."
The Hon'ble Minister of Tourism, Bah Paul Lyngdoh, delivered an encouraging speech, emphasizing the government's steadfast commitment to supporting the growth of tourism and artistry in Meghalaya.
"Today marks a historic occasion as gather here to celebrate the remarkable achievements of young entrepreneurs whose works serve as an inspiration to all. It is my vision to see Meghalaya's textiles have a brand ambassador and a signature outfit that will further boost Meghalaya tourism. We must prioritize these soft skills of Meghalaya, as the talent we possess knows no bounds. I extend my heartfelt salute to all craftsmen whose artistry enriches our culture. Rest assured, we will spare no effort in creating a global platform for the talented craftsmen of Meghalaya to showcase their artistry to the world," said Bah Paul Lyngdoh.
The Ateliers Meghalaya Awards 2023 truly celebrated the essence of Meghalaya's cultural brilliance while providing a platform to honor and uplift the talented artisans of the state. The Department of Tourism and Meghalayan Age Limited remain steadfast in their commitment to promoting and preserving the rich cultural heritage of Meghalaya, ensuring it continues to shine brightly on both national and global stages.