Chief Minister Conrad K Sangma felicitated in recognition of Meghalaya's historic achievement towards initiating Scientific Coal Mining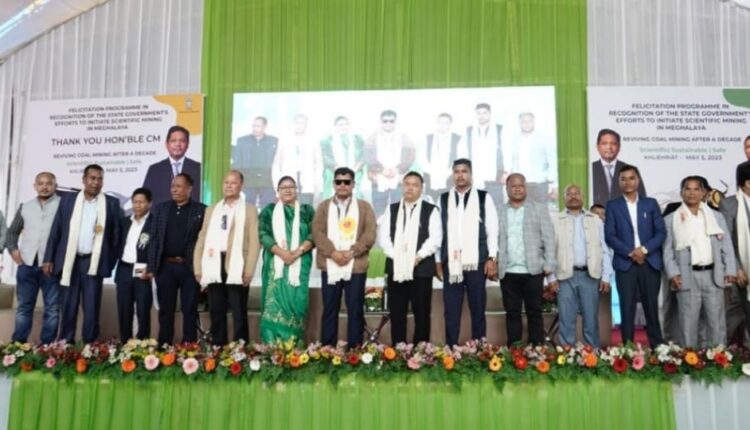 In recognition of State Government's persistent and determined efforts under the leadership of Conrad K Sangma, towards initiating Scientific Mining in Meghalaya, Project Proponents, a mining lease holder for coal extended their heartfelt thanks to the Chief Minister, Conrad K Sangma by felicitating him for this historic achievement that augurs well towards providing sustainable livelihood opportunities to the citizens and revenue to the state's exchequer. The felicitation programme was held at Khliehriat, East Jaintia Hills.
And ina significant step towards initiating scientific coal mining, the Ministry of Coal last month had provided approval for mining lease to four applicants out of the 17 prospecting license applicants. Coal
Mining is set to resume in the state of Meghalaya after nine years. The commencement of scientific mining will be landmark in the history of Meghalaya, as it ensures minimal environmental impact through sustainable and legally compliant extraction procedure.
The National Green Tribunal in April 2014 imposed a blanket ban on coal mining and transportation of coal in Meghalaya causing a massive blow to the revenue of the state. With this verdict, the mining industry suffered a negative growth according to GSDP and it came as a big blow to Meghalaya's ambitions of achieving its revenue collection targets. The effect this NGT ban had on local economy was devastating. Locals were struggling to make their ends meet and they still face the consequences of the ban.
July 2019 witnessed a brave and courageous move, state government under the helmsmanship of Conrad K Sangma challenged the NGT order following which the Supreme Court upheld the rights of tribal people over the natural resources in their land including coal. Supreme Court opined that private as well as community landowners have both surface rights and sub-surface rights, and minerals are owned by private and community landowners.
Richu Shadap,a local shop owner while speaking on the consequences said: " Before the ban, our local market used to be busy and used to thrive. Ever since the ban took place, we have lost everything when itcomes to our businesses and livelihood.
A local resident,Phoida Phawa also spoke about their plight: "Our livelihood was badly affected. We could not send our kids to schools anymore and local markets which used to thrive here, stopped.
Heimoni Lamare,another affected local resident due to this ban also spoke about their plight The effect of ban seriously affected our business and there was mass closure of shops. Lives of the people
changed, and they were struggling to meet their ends.
All these residents have extended their sincere thanks and gratitude to Chief Minister Conrad K Sangma for this laudable effort which would now provide them with the opportunity to earn their livelihood.
Seemingly happy, one of the license owners, Leborlang Lyngdoh thanked the state government for this laudable effort: would like to thank state government under the leadership of Hon'ble Chief Minister,Conrad K Sangma for working hard tirelessly to make this happen and I'm hopeful that everything would work out as planned, in the days to come. As a licensee, I'm very grateful for the opportunity provided to me. We will work together to flourish.
Our government has been working tirelessly to resume mining in the state and with this long efforts, Scientific Mining sees light, and Meghalaya will witness a transformation in the mining sector. It was the hardship that the people faced because of the ban and that motivated us to work tirelessly to ensure that the ban is lifted. Initiation of scientific mining will help people of Meghalaya reap the benefits of our mineral resources. Scientific mining will not only ensure minimal environmental impact and sustainable extraction but also provide gainful employment to thousands of locals from Meghalaya. The economic flow and the impact on the state's GDP will be very prominent in the years to come."said Conrad K Sangma, Chief Minister of Meghalaya.
CM Conrad K Sangma also assured that more miners will get licenses going forward. The Mining Dept will facilitate various programmes for the people so, that other miners also get mining leases.