Governor of Meghalaya – Shri Phagu Chauhan launches inspirational book series – "Sanatan Wisdom" by Dr. Dinesh Shahra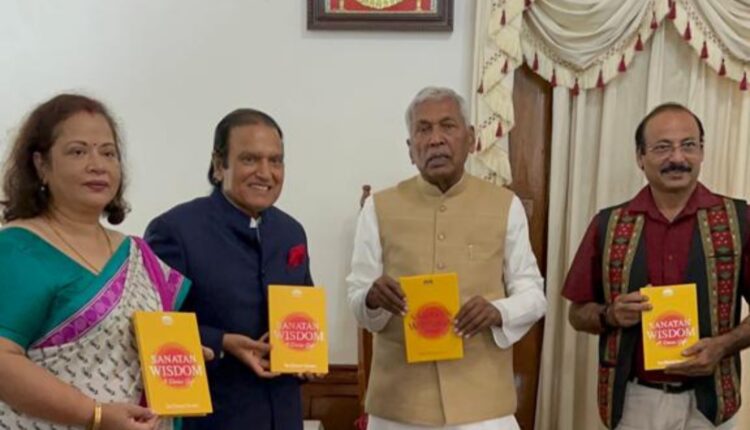 Governor of Meghalaya, His Excellency – Shri Phagu Chauhan recently launched an inspirational book series titled "Sanatan Wisdom" authored by renowned industrialist, philanthropist and best-selling author – Dr. Dinesh Shahra.
The book launch event was held in Meghalaya's capital city Shillong in the Durbar Hall of Raj Bhavan, the official residence of the Governor of Meghalaya.
Titled "Sanatan Wisdom," this thought-provoking book is a captivating literary masterpiece that delves into the depths of ancient teachings and offers profound insights into the Sanatan Wisdom. The book is published by the reputed Times of India group.
Authored by Dr. Dinesh Shahra, this book explores the spiritual, philosophical, and ecological dimensions of Sanatan Wisdom, emphasizing the importance of environmental conservation and sustainable practices in today's world.
As part of series of book launched by Dr. Shahra, all books under the Sanatan Living series, Sanatan Wisdom, Sanatan Leela and Sanatan Utsav are available in bookstores and on Amazon.
Speaking on the occasion, Dinesh Shahra said "We are delighted to be launching our inspirational book series "Sanatan Wisdom" with the blessings of His Excellency – Phagu Chauhan – Honourable Governor of Meghalaya. In this book I have attempted to unravel the beauty and mystery of Sanatan scriptures, which I imbibed during my long association with his late Vedantic Guru, Swami Pragayanandji. The priceless and timeless wisdom of Sanatan scriptures has significant relevance even now as it had in the past. Sanatan Wisdom will forever be a beacon for seekers of truth, regardless of differences."
Dinesh Shahra is one of the few industrialists who successfully made an indelible mark in the Indian agriculture sector. By spearheading the 'yellow revolution', Mr. Shahra played a pivotal role in transforming Madhya Pradesh into the "soy bowl of India", providing millions of Indians access to quality nutrition. His vision for self-sufficiency, strategic food security & agri-reforms has enhanced the livelihood of millions of stakeholders, especially farmers.
The Dinesh Shahra Foundation has been founded out of gratitude for all the knowledge capital Shri Dinesh Shahra has gained over the last 50 years. The foundation is built with an intention to 'Give Back' to the entities that are responsible for material and spiritual development of the society.