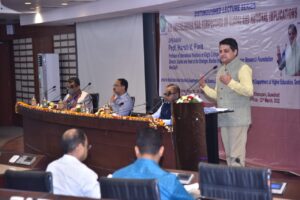 A distinguished lecture on 'THE UKRAINE-RUSSIA WAR: PERSPECTIVES ON GLOBAL AND NATIONAL IMPLICATIONS' was organised by the Centre for South East Asian Studies and Department of Political Science, Gauhati University in collaboration with Department of Higher Education, Government of Assam on 22nd of March at Assam Administrative Staff College.
The event started with the welcome briefing and underlining the significance of the subject of discussion, delivered by Sri B Kalyan Chakravarthy, IAS, Principal Secretary, Education, Government of Assam.
Prof. Nani Gopal Mahanta, Director (Honorary) of Centre for South East Asian Studies, Gauhati University and Advisor to Government of Assam (Education) shared his understanding and observation on the ongoing conflict between Russia and Ukraine resulting in grave humanitarian crisis. Prof. Mahanta also highlighted several ramifications that can emanate from this crisis shaping the future global order and foreign policy formulations.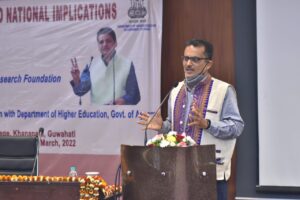 Keynote speaker Prof. Harsh V Pant analysed the contexts of domestic and foreign policies of India. He enlightened on the global politics and its gradual changing nature those have been evident from recent events like covid pandemic, Rise of China, struggling of EU, Russian invasion of Ukrain. According to Prof. Pant, these events point towards a reformative era. Also he said, This is a moment that captures the historical imagination that would shape future narratives. Evolution of the global order has taken a definitive turn. India's critical strategic dimension was also discussed in the context of Russia-Ukraine clash.
The lecture was followed by an Interactive discussion moderated by Prof. Jayanta Krishna Sarmah, Head of the Department of Political Science, Gauhati University. Prof. Sarmah reiterated the possible ramifications that can shape the future world politics as a result of this unremitting conflict.
The lecture event was attended by officials of Government of Assam, Faculty members and students of different Universities and Colleges located in and around Guwahati, and persons from media.